Ukraine Dynamic Frontline Monitoring
Traversals Government
Ukraine Dynamic Frontline Monitoring
Traversals has set up the Ukraine Dynamic Frontline Monitoring [UDFM] service to record military events in the war zone by reading and analyzing publicly available data. Relevant data sources are queried at regular intervals, information is collected, machine-translated, selected, categorized and enriched with structured data. The collection happens in a GDPR and T&C compliant way by using official APIs. The processed information is offered as a live feed and also as a corpus of historical data without dedicated further analysis. Appropriate interfaces enable the integration of the information into the customers' systems. The service can be accessed as SaaS hosted in the EU cloud with a web client or via the API.
War has been raging in Ukraine since February 2022. The developments and changes in the military situation on the battlefield as well as in the political environment are influential factors for a broad group of observers, leaders and decision-makers in the global environment.
Social networks in particular provide timely access to reports, assessments, opinions in the form of texts, images and videos. The mass of information and data, language barriers, as well as the extensive lack of meta-information, complicate the work of data analysts.
The Traversal Data Fusion Platform (DFP) enables the automated retrieval of data sources, the capture of selected information and the generation of structured meta-information.
Relevant information from thousands of individual sources is made available to the analyst team in an understandable form in near real-time. The effectiveness, efficiency and reproducibility of the processes characterize the performance.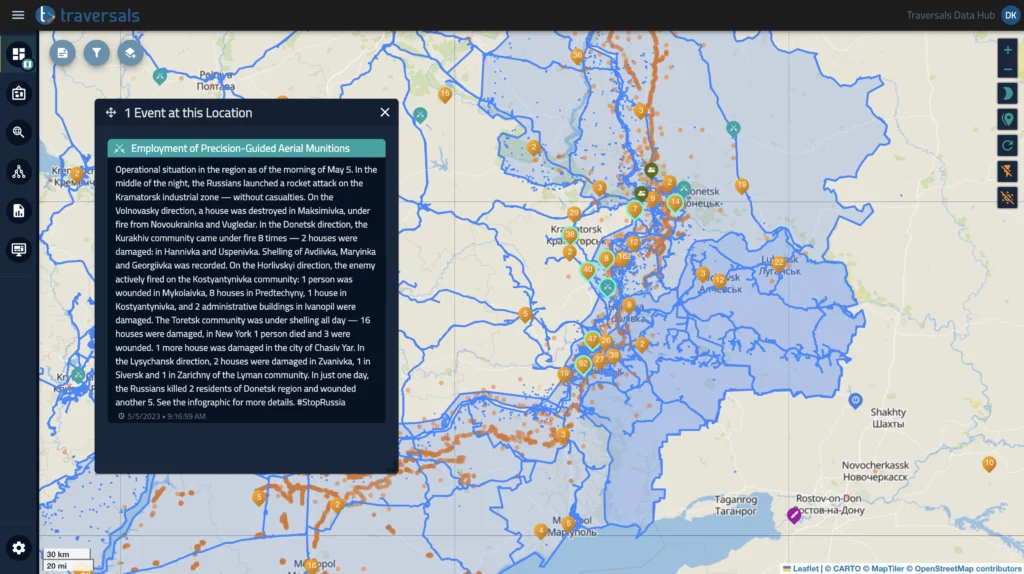 Fast, secure and always up to date. The [UDFM] service is constantly being improved through customer feedback. New features are implemented in the shortest possible time thanks to the modern DevSecOps architecture and improve customer deployment.
Daily Intelligence Briefings
No feed found with the ID 1. Go to the All Feeds page and select an ID from an existing feed.