Purpose of the Case Study
To demonstrate the ability and effectiveness of Traversals' OSINT tools, and to help our clients to better seize their benefit, we would like to give a compact sketch of a MEDINT case study dealing with an important aspect of the CORONA crisis.
At the beginning of the Corona pandemia or Covid-19, the news was mainly about updated statistics, new strategies, or who would develop the first vaccine. However, the following days of the corona pandemic have shown that events suddenly appear that can cause previous strategies to fail.
In March 2020, for example, the medical supply chain was disrupted by the lack of some medical supplies, such as face masks. It turned out that the whole world was hunting for masks and some countries were better than the others. It took 2-3 months until the supply was stabilized. Keep in mind that it could be stabilized only by accepting non-certified face masks.
The question is, what will be the next big Corona disruption, and is everyone aware of it?
Like our customers, at Traversals, we are eager to understand political situations worldwide and to show how our Intelligence Platform can be used to assist the in-depth understanding of intricate situations.
We, therefore, prepared a small exemplary OSINT case study that may be of interest to governments trying to secure their medical supply chain, to organizations interested in Medical Intelligence (MEDINT), and to large organizations ensuring the health and safety of their globally distributed employees. We want to demonstrate and ensure that crisis situations are identified as early as possible and that geopolitical situations are understood well enough in order to react adequately.
Starting Point – Scattered News About Shortage of Medical Glass
In May 2020, our business contact drew our attention to the potential shortage of medical glass in the context of Covid-19. Until then, we had not been aware of the importance of medical glass for the pandemic supply chain.
Medical glass, also known as Borosilicate glass, is a special kind of glass which withstands temperature differentials of more than 150 °C and has a high chemical resistance. It is the glass type which is used in laboratories, industrial equipment and also for all the ampoules. There are various well-known suppliers available, such as Schott, Gerresheimer, or Corning.
Some experts started to argue whether enough medical glass was available to provide ampoules with Covid-19 vaccination for a complete country or for multiple countries. It gets even more complex if Covid-19 vaccination must be applied multiple times.
Finding a coronavirus vaccine is hard. Getting it to people is a whole other problem. – By Alicia Wallace, CNN Business 6/11/2020
Always Start With the Question
As we follow the Intelligence Cycle, we started with the definition of the main question:
How will the shortage of medical glass influence the worldwide combat against the Covid-19 pandemic? 
We approached the problem by dividing it into multiple smaller questions which will all contribute to the final report.
How complex is it to produce medical glass?

Which company is capable of producing medical glass, where are they located, and have supply contracts been published?

Is there any short-term alternative for medical glass available?

How are countries like Russia, China, or the USA coping with these possible problems?
In the following sections, we present a small excerpt of the information collected and insights gained.
Proceed With Collecting Global Information
To get a first feeling for the questions, we started with some basic searches. This process is often used to fine-tune the keywords. Just a side note: as the topic is not yet widely discussed so far, we do not expect too many results on social media.
As current Covid-19 vaccination news is mainly dominated by Russian news on its vaccine approval, we queried our Federated Search with "medical glass suppliers" in Russian language. We retrieved results from Yandex, Google, DuckDuckGo, Naver, Yahoo, and Bing. There was one result that drew our attention:

After importing the result into the Intelligence Platform, the complete article was extracted and translated. We analyzed the full story and understood that the news was mainly about the company ЭСКОМ and its bankruptcy. We started to dig deeper and were looking for this Russian company in particular. A quick check of the website showed that the latest news was dated to 2016. 
We tried to get more information on the company and retrieved the following Russian results: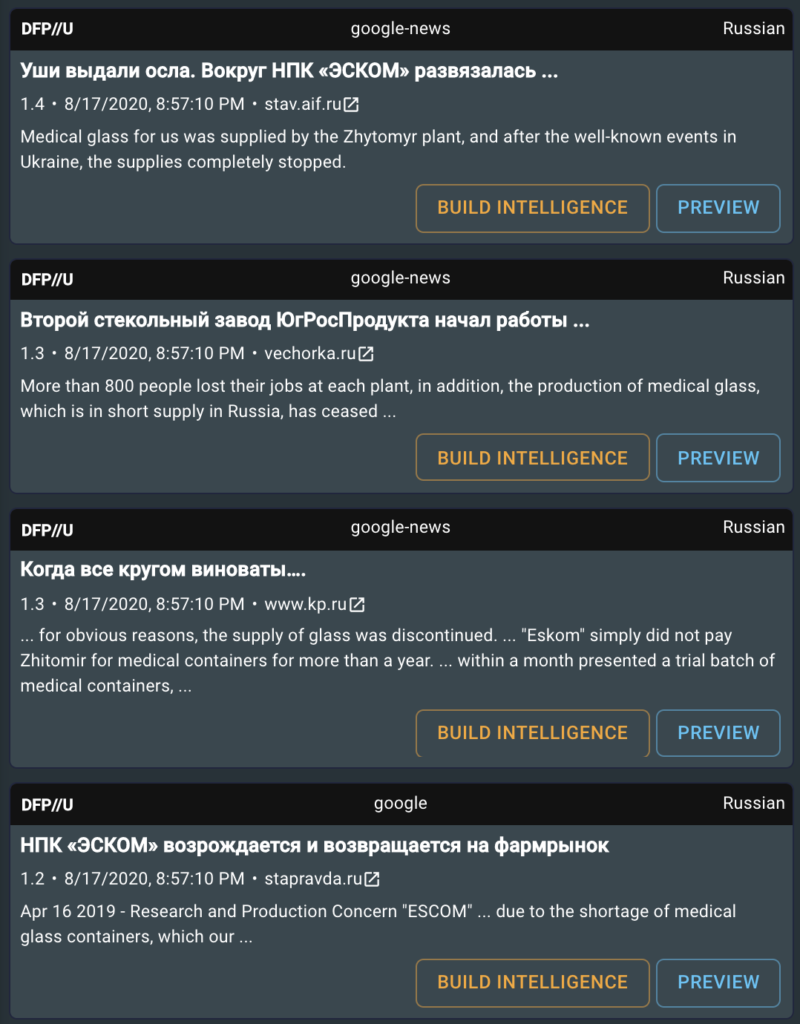 All in all, it does not sound really good. It is not clear if there are more manufacturers available in Russia, but at least one of the biggest had serious problems years ago.
As a consequence, we defined a new task in our investigation project. The goal of this task is to find more suppliers/manufacturers in Russia and to understand the Russian strategy. It is the agile interpretation of the Intelligence Cycle.
Alternatives to Medical Glass and the American Answer
Besides this, we tried to get more information on alternatives to Borosilicate glass. A good way is to apply some searches on patents related to this special kind of glass. Thus, we were looking for "patents Borosilicate glass" and found this nice piece of information:

This snippet is related to this announcement. It says that the company Corning Incorporated got a $204 million funding by Biomedical Advanced Research and Development Authority (BARDA) to ramp up the domestic manufacturing capacity to support the vaccination and treatment of billions of patients.
Here it is, the American answer on how to deal with the lack of medical glass. Assuming that production will be running at full speed by the end of 2020, $ 204 million is a nice sum for six months (another interesting question is if Corning tries to buy some boron mines).
This news announcement got a pretty high ranking within our Federated Search because of the positive sentiment. Without the global sorting which is explained in our article on the Federated Search, it would have required more time to find this needle.
What is the situation in China?
We found a very detailed article discussing the situation in China: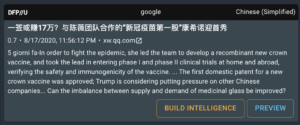 It says that there are only a few companies available for producing medical glass, such as Shandong Pharmaceutical Glass Co., Ltd and Zhengchuan Co., Ltd. The author also stated that because of other priorities, the investment for research and process development got restricted. As a result, current capabilities are not sufficient to meet the needs.
We will closely monitor the next steps of the Chinese strategy for their medical supply chain.
What are the next steps?
This exemplary case study was used as a starting point for a longer investigation/project in the field of Medical Intelligence and Strategic Intelligence. We used the first analysis to fine-tune the keywords. The next step is to activate the search assistants in our Intelligence Platform which will provide a regular check and a long-term observation of the situation.
Key Findings
It's not just about who gets the vaccine to market first, but also about who is able to control the entire supply chain of accessories needed.

The supply chain will have to include the delivery of the vaccine to, and the vaccination of, all the people. Looking at the USA, there are at least two well-established narcotics logistics systems. To support the most efficient with government money is normal. In times of pandemia, however, it may be wise to extend budgets and not to cut those.

This case study should be seen as the starting point of a longer investigation to follow.

Collecting the data for this initial case study took us less than 30 minutes. Without the fully integrated translation and context-dependent sorting of all collected results, it would have taken several hours to analyze all the data.